COMMENTED CONSTRUCTION PICS

The Mustang II construction is traditional sheet metal work, being used 100% aicraft quality material. All external structure rivets are flush (AN 426), minimizing the aerodynamic drag, mainly in the wings. The commented construction pics are available on the left side navigation bars.

Center section

The Mustang II ´s heart. The 8' long main spar, is a "

I

" beam made of extruded Alclad 2024-T3 alluminum alloy. The rear spar has a " C " shape. It has the most aircraft´s components, such as: flap handle, sticks, joints, seats, landing gear legs, etc...

Building time

: 2 work months or 600 man hours.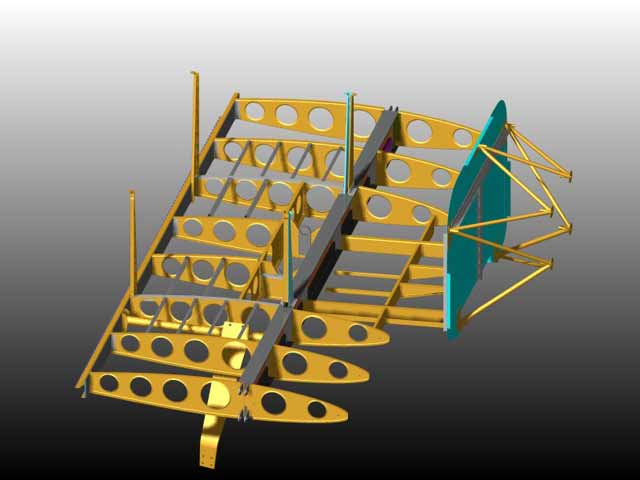 In this 3D view we can see the robust center section structure and some forward fuselage parts (firewall, engine mount). It´s important to notice that it has 4 vertical stringers (bulkhead members) affixed on the two spars. The fuselage construction starts this way

Wings - special attention was taken to leading edge alignment, because the aircraft´s airfoil is supercritical. We have used plumb bobs to line up the ribs reference roles with the reference lines drawn in the spars. But the most project challenge was the wet wings construction. Of extremely dificult and slow riveting, we had to avoid the PRC to harden... the last rivets used for this sealing were of cherry type. The wing dihedral and trailing edges were made by using the good and old spirit level.

Building time

: 2 months and half work or 750

man hours

Forward

fuselage - After finishing the center section, that was made in vertical position, we removed it from jig and placed it horizontally in saw horses. Four vertical posts (bulkhead members) are its main structure. The firewall, header tank, rudder pedals and the roll bar are part of it.

Building time

: 2 months or 600

man hours

T

ailcone - Mustang´s tailcone has flat shape belly, so the only required jig are a plywood sheet and saw horses . This eliminated the construction of complicated jigs, like on the RV-7. Its angle was determined using again the old and good spirit level.

Time expense: 1 month and half or 450 man hours

Empennage - Perhaps the most easy construction phase. The fixed parts, like fin and horizontal stabilizer, are made of 0.032 Alclad sheet, and the moving components (rudder, elevator) use 0.020 material. Very strong!! The horizontal stabilizer attachment has 06 3/16" screws ( Cessna Skylane has only 2!) The vertical fin has 8 attachmnt screws! We put the fiberglass finishig kit

Building time

: 2 months or 600

man hours

Canopy - Very difficult bending and welding work. A lot of care must had taken on cut and drilling plexiglass, to avoid its destruction.

Building time

: 2 months or 600

man hours

Fuel system - With 3/8" O.D. copper tubing (more resistant). The system joins the three tanks in only one fuel valve. The fuel flow possibilities are: in both (simultaneous consumption of the two wings) or main tank positions . A transfer pump will allow the fuel transport from wings to header tank.The following sketch illustrates this system.

<![if !vml]>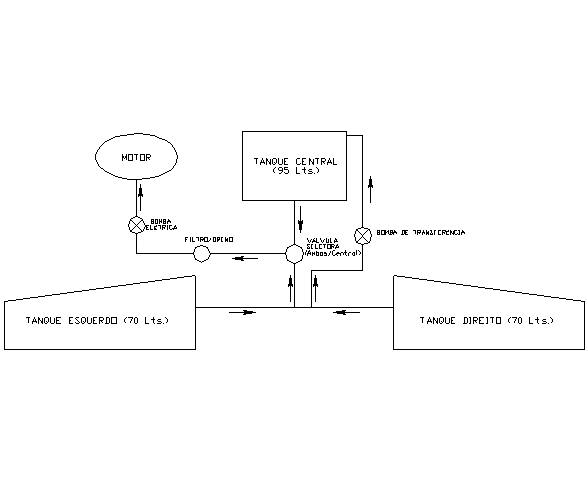 <![endif]>