visiting Mustang Aeronautics
In the initial contacts, before ordering the kit, we requested the aircraft video and illustrative material. Inside them, there was all the prospect, description, performance, construction aspects, necessary tool rack, and a lot of builderīs opinions. We had good impression of the material. It was the great "flash" of all this process.
Beaten hammer! After ordering the kit with Chris Tieman, president of the Mustang Aeronautics , I had a desire to know everything about the project, mainly the basic construction tips, on how was the components manufacturing process , the manufacturing quality, the factory installations and the involved tool rack. I was wishing a transition flight on Chris Mustang II . After all, I was an absolutely innocent guy. So on February 26, 2000, I took a NorthWest NWA1923 flight, from New York JFK (where my mother lives) to Detroit (DTW).
Mustang Aeronautics headquarters are in Troy, northbound of Detroit. When arriving at Detroit Metropolitan Airport , after 01:30 h of flight, I noticed that it had finished to snow there! Already I noticed that my possibilities to fly in Chris Tiemanīs prototype were minimum.
Snow in freeway I-75
Rented car and map in hands, I took the I - 94 east route to the Detroit, until intercept I - 75 heading north . I was driving under adverse meteorological conditions and slippery track, but I wanted to arrive in Troy before it grew dark. There is no snow in Brazil !!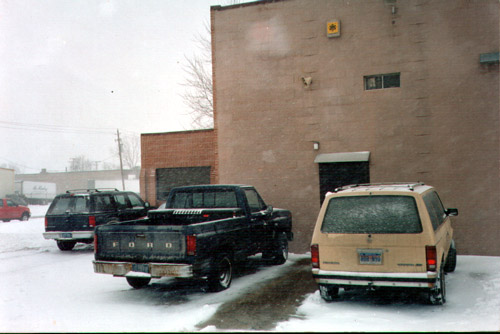 Parking and building of the M.A.
After driving for approximately 25 miles (40 km), I arrived at Big Beaver ,Troy. I already was sufficiently tired, because of 2 hour delayed flight from New York due technical problems. It was growing dark and I judged that it was time to look for an hotel, then I had searched and found an Holiday Inn . In the following day, at 9:00 am I finally arrived at the M. A. headquarters. Although to have made an appointment with Chris, he was not there in that instant. I was requested for his secretary to wait a little while.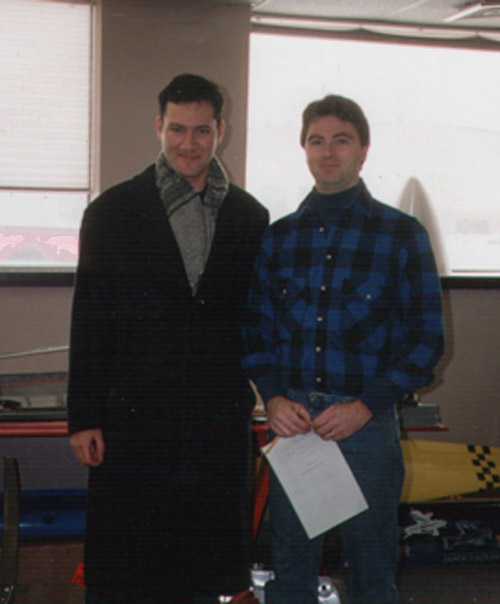 With Chris Tieman, the owner
After waiting for about half hour, I finally met the young Chris Tieman, an aerospace engineer graduated by Michigan University, with "background" in metal manufacture. In 1986, he got his aircraft private pilot license , and soon he looked for something that was more economical and faster than traditional airplanes. Guess which aircraft did he choose? He already had bought the kit and plans, but when in 1992 Robert Bushby wanted to retire. he decided to buy all the Bobīs infrastructure. At that time, Mustang Aeronautics was borning.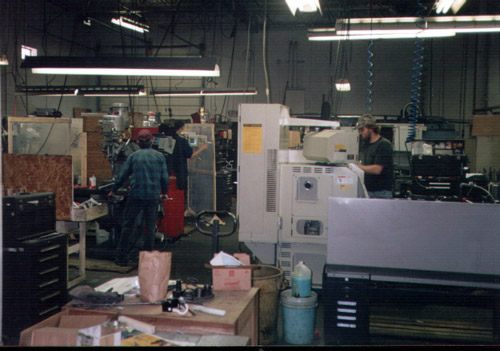 Lathe section

It was now time to know the factory installations. Surprising, I noticed that it was a simple plant, with few employees and old machines. That myth of rich manufactuer (he owns a 1994 Ford Explorer), organized plant , modern and computerized machinery was over. I also noticed that his profit could be less than I have thought. Everything was simple and 60īs factory style. I noticed welding machines, bending brakes and hydro presses, these last ones used to form Mustangīs ribs and bulkheads.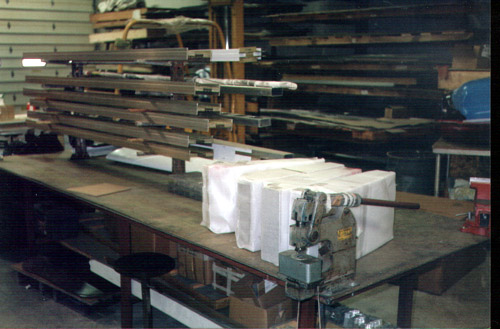 Stored main center section spars and fuel tanks
In manufactured parts section, Chris shows me the main spars, then I noticed that one of them with a 2035 mark (our serial number). I also noticed that were some center section aluminum tanks there. This kind of center section tank has 5 gallons (19 liters) each one (we did not opt this for this config.). Our configuration was a 25 gallons (95 liters) header tank, located behind the instrument panel , plus two 18 gal. (75 liters) wet wings.
Order tables on the wall

Walking on another compartment, I noticed that it had 13 plane tables affixed on the wall, one of them with our serial number. They were a kind of internal scheduled manufacturing/ crating process log. Later I perceived the reason of delayed kit shipping to Brazil, because the factory was fully overloaded. Chris also said me later that

there were made little mistakes in our center section spar, wich had to be made again.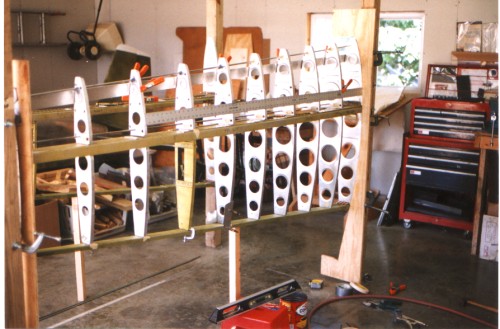 an incompleted wing in a jig (Rick Henry pic.)
When arriving at another section, I saw an incompleted wing on a steel jig. The colloquy that was succeeded there was very important, because Chris explained to me lots of tips about the building process, such as the use of 3/32" rivets in the ribs, that would give a most perfect wing surface, but it had to be used half rivet spacing indicated in the plans. He also told me about the required tools. The use 3/32" rivets could also be used in another parts, but always with half plans spacing. He also called me attention about the leading edge alignment, about levelling the assembly on the jig, and how this afect the airfoil performance.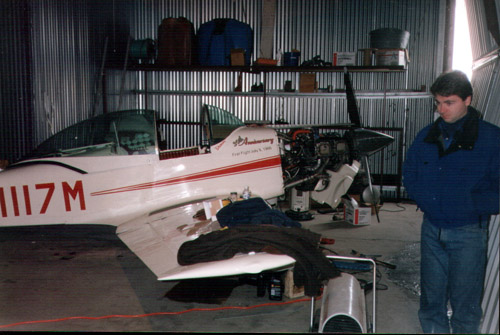 Chris shows me his prototype, whose first flight was in july, 9th 1966

After talking about the project for approximately one hour , Chris invited me to go to

Oakland Troy Airport (7D2) , where were stored his Midget Mustang and the Mustang II first prototype (N1117M). Every year, in september, depending on the meteorological conditions, is hosted at this airport the Mustang Openhouse, a kind of meeting between builders, pilots and Mustang enthusiastic. Are included in this event things like breakfast, barbecues, demo flights and workshops. Chris also told me that, because they are a small company, the customer support is personalized, and there is no constructor that he doesnīt know. When arriving in his hangar, I had 100% of certainty that I will not fly, because both models were in maintenance.
His
Midget Mustang with the 50th project anniversary (1948-1998) commemorative painting
After the visual contact with these two beautiful little aircrafts, it was time to go and think about the future. After all, in that day I had acquired an incalculable value number of informations. In that moment I really felt the necessary courage and no fear to build an aircraft.